Home

/

RG Silver Edition Splitter GP200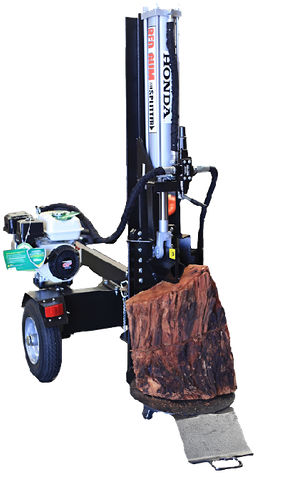 RG Silver Edition Splitter GP200
RGGP200LS
The RedGum GP160 Silver Edition Log Splitter is powered by the Honda GP200 engine, which carries a 2-year domestic warranty! The RedGum GP200 Silver Edition Logsplitter is one wood Log Splitter you can rely on to deliver reliable, easy starting, fuel efficient performance, day in and day out. It's hard to go past the RedGum GP200 Silver Edition HONDA powered log splitter. With its 3000psi splitting force, it is guaranteed to split YOUR wood or YOUR money back!


Key Features
Powered by a genuine HONDA GP160 4 stroke engine

Splits wood in both a horizontal & vertical position

3000psi Splitting Force

High performing 2 stage hydraulic pump

4.5" Bore 24" Stroke Hydraulic Cylinder rated to 3000 psi

Assembled in Australia by RedGum Specialists

6" wide Flange beam with log cradle to keep the log on the beam without operator assistance

Wedge axe head with wedge wings and a taper to make splitting easier

Pneumatic tyres (Please note the tyres allow you to tow the log splitter of speeds up to 30km/hr. Not suitable for highway travel or towing on the roads)

Warranty
2 year RedGum Splitter warranty

2yr domestic engine warranty
Stock Level:
Out of Stock
Specifications
Minimum Buy:

1

Shop by Brand:

RedGum

Shop by Range:

Petrol Log Splitters
Customer Reviews and Ratings
No Reviews
Be the first to review this product!